Light Commercial Reverse Osmosis Water Filtration Systems - TSM Wall Mount Series - Made In The USA
State Of The Art Stainless Steel TSM RO Series
TSM Series - TSM Stainless Steel Reverse Osmosis Systems ideal for minimum footprint water filtration uses. They are also perfect for whole house home use, coffee shops, cafes, restaurants, spot-free rinse, labs, small business, greenhouses, organic growers and commercial water filtration. These units are compact, light and are designed for easy access to all major system components. The TSM (RO) system is a compact, heavy duty stainless steel Reverse Osmosis water purifier for users requiring 400 to 1500 gallons per day water production. As with all our purifier products, the TSM reverse osmosis systems are fully equipped with the instruments and controls needed for reliable long term operation.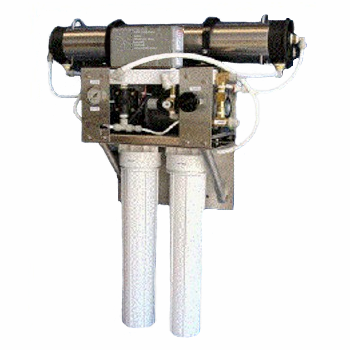 TSM QUALITY COMMERCIAL RO - User Friendly!
TSM series of light commercial reverse osmosis water purifiers built to suit the needs and requirements of commercial pure water users. This includes restaurants, coffee stores, convenience stores, microbreweries, supermarket produce and food preparation operations, misting and humidification systems, car wash facilities, and many other businesses that must have consistent high quality water for their daily operations. The key factors of reliability, serviceability, and consistent performance with minimum user intervention are achieved in the solid design of the TSM systems. Stainless steel is used throughout; in frame, pressure vessels and fastening hardware to provide the structural strength and corrosion resistance appropriate for a commercial appliance.

The TSM system design is optimized for either shelf mount or wall mount installation. The four models; 400 GPD, 800 GPD, 1200 GPD and 1500 GPD all occupy the same very compact footprint. This allows flexibility in accommodating the limited space available in most commercial utility equipment locations. Quick connect tube fittings on all system ports further simplifies installation and service. Most important, all TSM models incorporate the most reliable combination of proven reverse osmosis hydraulic design and state of the art Thin Film membrane elements to provide the long term performance expected by commercial users.
TSM FEATURES


All TSM Reverse Osmosis systems include the following important quality features:
✔

Stainless Steel Frame & Pressure Vessels
✔

Thin Film Composite Membranes

✔

High capacity attached sediment pretreatment filters suspended solids (dirt, rust, sediment, etc.).

✔

High capacity attached carbon pretreatment filters chlorine, organic chemicals, and VOCs.
✔

High Performance 3/4 HP Motors
✔

Positive Displacement Rotary Vane Pump

✔

Integral Hydraulic Manifold Assembly
✔

Fast Flush Control
✔

Low Feed Pressure Cutout Switch
✔

Tank Pressure Control Switch
✔

Delrin Orifice or Teflon Tube Flow Control
✔

Feed Inlet Solenoid Valve
✔

SS Needle Valve Pressure Control
✔

Product Tank Pressure Relief Valve
✔
All Systems Wet Tested Before Shipping





Operating Parameters: Max TDS-2500ppm, Total iron is less than 0.3ppm, Manganese is less than 0.05ppm, Water hardness below 5 gpg.
FREE SHIPPING ON ALL TSM REVERSE OSMOSIS WITHIN THE CONTINENTAL UNITED STATES.OVERSEAS SHIPPING AVAILABLE OR HAVE YOUR FREIGHT FORWARDER PICK-UPNO CHARGE FOR EXPORT CRATING
New

:
Easy Automatic RO Control Panel now included with the RainDance RO Packags. Our integrated electronic controller offers automated control of several system functions and helps prolong the life of the RO motor and membrane, providing long-term and reliable operation. Built with superior engineering, this control panel eliminates confusing switches and lack of feedback provided by other generic RO systems
The Automatic RO Control Panel allows the b
usiness
owner or employee to easily monitor the performance of their system by using easy-to-read light up indicators for common RO functions. Certain features such as the

System Flushing

and

Low Pressure

provide added protection by automatically cleaning the RO membrane and shutting the RO system off in events of low water pressure. Low water pressure can cause an RO system to cycle on and off which can burn out the motor and increase noise level. Other features like the

RO Pump

and

Tank Full

keep you informed when the system is running and you have a full tank of purified water. With automated control it has never been easier to operate a Light Commercial RO System.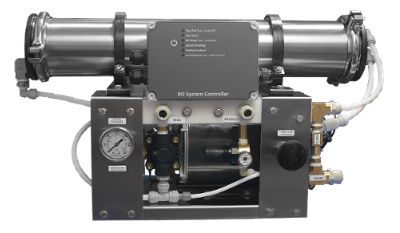 Part #

Gallons Per Day

Dimensions

Voltage

Price

TSM-RO-400

400GPD

28"W x 8"D x 12"H
w/ attached prefilters - 25"H

110/220

TSM-400: $4,298.00




TSM-RO-800

800GPD

28"W x 8"D x 14"H
w/ attached prefilters - 37"H

110/220

TSM-800: $4,498.00


TSM-RO-1200

1,200GPD

28"W x 8"D x 14"H
w/ attached prefilters - 37"H

110/220

TSM-1200: $4,598.00




TSM-RO-1500

1,500GPD

45"W x 8"D x 14"H
w/ attached prefilters - 37"H

110/220

TSM-1500: $4,798.00

Operating Parameters: Max TDS-2500ppm, Total iron is less than 0.3ppm, Manganese is less than 0.05ppm, Water hardness below 5 gpg.
What does the Electronic RO Control Panel do and why is it important?
Electronic Control Panel with function indicators provides hands-free and worry-free operation of several functions of the RO system. The basic RO functions include the "feed pressure switch" and "tank float switch" which regulates the system operating. The "feed pressure switch" ensures that your incoming water pressure is high enough for the RO system to operate (typically above 25psi). The "tank float switch" tells the RO system to shut down or start up based on your storage tank's water level. These basic functions are built into the RO control panel for smarter regulation and eliminates external switches.
A bonus feature included in our Electronic RO Control Panel is automatic membrane flushing. Most whole house/light commercial RO systems on the market today do not provide a membrane flush, which helps extend the life of the membrane by removing the concentrate brine (extremely salty water expelled by the membrane) sitting on the surface. Our previous whole house and light commercial RO systems included a manual membrane flush that allowed the user to flush the membrane as they wanted to. With this Electronic RO Control Panel, our customers no longer need to worry about remembering to flush the membrane constantly; this control panel automatically activates a membrane flush both at start up and shut down, ensuring longevity of your RO membrane.
The most important feature on this control panel, however, is the low pressure shutdown. Both public city water users and private well water users can suffer from periods of low pressure which can have a great negative affect on any RO system. If you experience a period of low pressure, a standard RO system would cycle on and off until the pressure is regulated. This can cause wear and irreversible damage to the RO pump motor and external feed pressure switch, resulting in costly, down-time and labor-intensive repair. Our RO control panel prevents this from happening by automatically shutting down the RO system if your feed pressure remains low for an extended period of time.
An optional feature on our RO control panel is pretreatment lockout. When pretreatment is needed to protect the RO system, a backwashing filter or water softener is used. When these pretreatment systems shut down to clean themselves, they allow unfiltered water to pass by the system and get into the RO if it's running at this time. To prevent possible exposure to unfiltered water a pretreatment lockout switch can be used to shut down the RO system when the water softener or filter is regenerating. Once the pretreatment system is finished regenerating, the switch will reactivate the RO system again. Both the RO system and the pretreatment system will need to be specially fitted with pretreatment lockout. This option is included free of charge when you add any of our pretreatment water softeners, iron filters, or backwashing systems to your RO Package!
Each function of the control panel is displayed with varying indicator lights to let you know how the system is running. You won't have to wait until it's too late and there is no water when you turn on a tap. Our Electronic RO Control Panel prevents potential RO malfunctions from happening and allows you to catch the culprit in time, before it has a chance to harm your system. This fully automated control is a must-have for any home or business owner that wants a hassle-free solution to many water problems.
Do you require pretreatment or have an outdated water softener system?
Consider our RainDance PRO Water Softener custom built for both city water and well water users! Our all-in-one pretreatment system specifically built to protect our RO Packages. Now with pretreatment lock-out!
Protect Your Reverse Osmosis Investment! Remove hard water, rust, iron, manganese, & hydrogen sulfide gas odors before your RO system.

Dimensions & Specifications
– Tank: 10" dia. X 54" ht. Total Height 63" - Ships preloaded for easy installation!
– Brine Tank: 18" dia. x 40" ht.
– Max. Flow Rate: 15gpm
– Power: 24v, 110v 60hz
– System Weight: 135lbs
– Plumbing Size: 1"
– Bypass: Yes, Included
– EZ-Maintenance - Just add Sodium or Potassium Pellets

Maximum Removal Capacities
12 ppm Iron (Ferrous & Ferric) High Iron Treatment - 50 grains Hardness - Hard Water Softening - 1ppm Manganese - 1ppm Hydrogen Sulfide Gas
​
INCLUDES FREE PRETREATMENT LOCKOUT: Provide even further protection of your RO system with our built-in pretreatment lockout! This option automatically shuts down the RO system while the softener is regenerating, eliminating the fear of unfiltered hard water going into the RO system.




Part #: RainDance PRO-125-10
Special Package Price: $895.00



Free Shipping Within The Continental US


*Online Package Price when purchased with any RO Package!​
RainDance Water Systems TSM Reverse Osmosis Options List:

TSM REVERSE OSMOSIS HYDRO-PNEUMATIC PRESSURIZED STORAGE TANKS:

No room for a storage tank and re-pressure pump? Use these pre-charged Reverse Osmosis System pressure tanks when you have limited space requirements and lower water volume demand. Perfect for restaurants, cafes, labs, offices, wet bar, spot free rinse, and more

.
RO-Mate-30 Pressurized Water Tank

· System Connection: 1" male NPT
· Height: 44" inches
· Diameter: 16" inches
· Volume: 29.5 Gallons
· Water Capacity: 11-16 Gallons @ 40 PSI
· Weight: 23 Lbs​

RO-Mate-30 Price: $575.00ea



RO-Mate-40 Pressurized Water Tank
· System Connection: 1" male NPT
· Height: 57" inches
· Diameter: 16" inches
· Volume: 40 Gallons
· Water Capacity: 20-24 Gallons @ 50 PSI
· Weight: 30 Lbs​
RO-Mate-80 Pressurized Water Tank
· System Connection: 1" male NPT
· Height: 56" inches
· Diameter: 25" inches
· Volume: 80 Gallons
· Water Capacity: 45-48 Gallons @ 50 PSI
· Weight: 58 Lbs​
Reverse Osmosis Storage Tank Options:
Reverse osmosis systems produce water as a small stream, so a separate storage tank is needed to store water for use.

Add one of our storage tanks below or source your own tank and we will include a float and float switch at no extra charge!
Use or Source Your Own Atmospheric Storage Tank
· We are now giving our customers the option of using or sourcing their own storage tank!
· Most atmospheric storage tanks are compatible with our whole house RO packages!
· Find the right storage tank that fits your space requirements and save even more!
· Use your own storage tank and add our FREE float switch & float assembly!
· Preinstalled float switch on RO conserves water by shutting off RO when tank is full!
*Must be purchased with Whole House RO Packages at the same time.


Float Switch & Float
FREE


200 Gallon Atmospheric Storage Tank

· Approx. 31" dia. x 72" ht.

· Includes complete float for tank and float switch on RO for full tank shut off.

*Appearances may vary


TK-200/Float
Price: $1,195.00ea


300 Gallon Atmospheric Storage Tank

· Approx. 35" dia. x 85" ht.

(Designed to fit through standard doorways)

· Includes complete float for tank and float switch on RO for full tank shut off.

*Appearances may vary


TK-300/Float
Price: $1,295.00ea


500 Gallon Atmospheric Storage Tank

· Approx. 47" dia. x 83" ht.

· Includes complete float for tank and float switch on RO for full tank shut off.

*Appearances may vary


TK-500/Float
Price: $1,495.00ea

TSM REVERSE OSMOSIS REPRESSURE SYSTEM:
RDWS 10gpm Upgraded Delivery Pump

· Fully integrated compact booster pump draws water from RO storage tank and delivers perfect water pressure to all taps.

·

Installs quickly and easily and features one of the lowest noise levels (47 dB(A)) in it's class.

· Dimensions: 16"L x 7.6" W x 12"H

; 1" Inlet/Outlet Ports. Power is 110v, 1-phase. 1 HP Motor. Output is 10 gpm at 50psi.

·

Includes (2) 1" Stainless Steel Flex Hoses for easy installation!


RP-10GPM
Price: $795.00ea